I'm often asked what management pack is used by what feature and there is actually a very easy way to find out this information in the EM12c console.
Let's say we are in ASH Analytics and want to view what management packs are required as part of this feature utilization:
Click on the global Setup menu in the upper right, then click on Management Packs and Packs for this Page–
You will quickly see a pop up page that shows you what management pack(s) are required to use the ASH Analytics feature:
If we jumped to SQL Monitor and did the same process of clicking on Setup, Management Packs, Packs for this Page, we'd see that the SQL Monitor requires the Database Tuning Pack:
You an click on host monitoring and this process will confirm for you that no packs are required unlike the previous two features.  This will offer you the management packs required for any of the features and can save you a lot of time if you just quickly want to verify, (I know I often mix up the Tuning and Diagnostics pack and some features require both!)  It's always better to be safe than sorry.
License info can be very daunting as well, so having some explanations of what licenses are for what features, (high level) is helpful.  You can access information on EM12c licensing by going again to Setup, Management Packs and then clicking on License Information.
Each license required, along with high level descriptions are included in this section: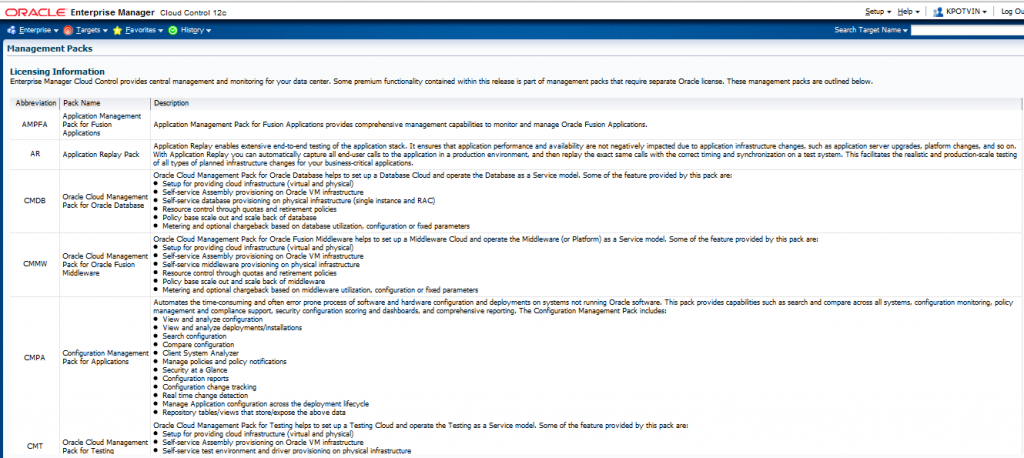 It also identifies the acronym/abbreviation used for each pack license, so when it's time to renew, here's a bit more information to help you decide what you need to support your environment!