PASS Summit 2nd Day Keynote
Woohoo, we've made it to the second day of PASS Summit!  After an awesome first day running from the keynote, to my first session with Denise McInerney, late for my executive meeting with less than a dozen other attendees with Rohan Kumar and sessions/networking/parties, here we are for the second day of PASS Summit keynote!
Info and Awards
We started the day with Wendy Pastrick to tell us about the financial status of PASS and she decided to make sure we were awake and serenade us with a lovely song first!
Tim Ford was next to talk about what the community and PASS means to all of us.  He announced the PASSion award, which was given to my wonderful friend and co-presenter in webinars and fellow Linux Learning Pathway sessions, Hamish Watson!  Congratulations, Hamish!!
2nd Day Keynote- TARAH WHEELER!!
Tarah Wheeler is a cybersecurity expert and has written a book on "Women in Tech, Take Your Career to the Next Level".  She came to speak to us about the daily challenges of data breaches in companies and why we are an important part of working to solve it.  She wants DBAs and others in our industry to be diplomats.  We should recognize the vulnerabilities and work with our companies to make them more cyber-secure.
She discussed the isolation and separation of the internet into three functional internets due to GDPR and other data privacy and government policies in the world today.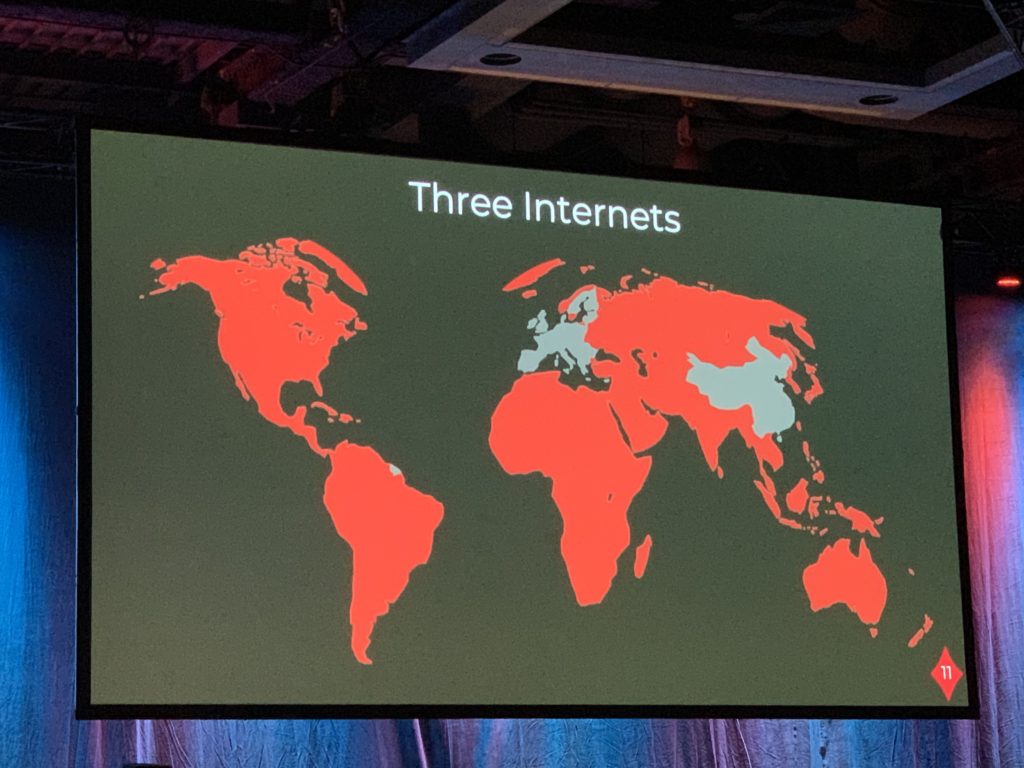 She discussed how data is simply collected in countries like China vs. the rest of the world, along with GDPR and how most data retention isn't designed for GDPR policies.  Data retention, backup and collection all has implications depending on these.  How we have to think about data has changed drastically in recent years.  Some of this has come from capabilities in technology, some has come from regulations/policies and others through breaches.
AWESOMESAUCE
I really, really enjoyed this keynote-  as much as I enjoyed hearing about the future of our own platform of products from Microsoft after the MSIgnite announcements, Tarah's presentation was timely and dramatically important to us as data professionals.
The redundancy we put into our systems to protect our data also makes us vulnerable and this talk resonated with me deeply.  The constant conflict between retain the data and remove it when policy/regulations/individuals rights state we must.  It's a constant push and pull of data professionals today.
She discussed the importance of future investment in data retention policies, cybersecurity and what I know many of us knew was coming.  We have a tendency to procrastinate.  We think it's always tomorrow that we need to worry about it because there is so much else that we need to worry about, but critical data and policies around GDPR and cybersecurity is an essential topic TODAY.
I did a lot of GDPR talks, including an intro talk last year at PASS Summit.  Her use cases on China regulations, GDPR and California combinations, etc. are similar to ones I created in my own examples.  I was able to quickly demonstrate to any attendee of the talk who told me they weren't susceptible to GDPR regulations how they were.  The ease at which I was able to make them susceptible zwas quite mind-blowing, so I was thrilled she was able to demonstrate this to the entire attendance at Summit.  I'm all @TeamTarah now.
Thank you to PASS for having Tarah as the second day keynote-  it was a great keynote today and with yesterday's Rohan yesterday, I'm looking forward to tomorrow's even more!